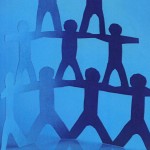 Therefore, if you are offering your gift at the altar and there remember that your brother has something against you, leave your gift there in front of the altar. First go and be reconciled to your brother; then come and offer your gift. (Matthew: 5:23-25)
Managing conflict and finding reconciliation sometimes means admitting you are wrong or acknowledging that you have hurt or harmed some other part of life. This verse of Scripture simply and lovingly instructs us about what is most important. We may be seeking to get right with God – the Spirit of God that is somehow much higher than where we are. And this ignores the principle that God is present everywhere – and standing by everyone, if they will just choose it.
It's easy to ignore that we may not be right with the people that are also right here where we are. If we would seek to be reconciled with God – to be forgiven for whatever we might have done, or spoken or thought, then what is most important in this instruction is that we first seek to do the same with our fellow travelers on the spiritual path in this place and dimension.
Pride is a pitfall and none of us like to admit that we don't know "how to" do things. But it can be overcome by determining to learn to do those things – step by step. Learning how to seek forgiveness, how to communicate when confronting differences, how to listen, how to reach resolution, and how to better manage what can't be resolved are just some of the elements of effective conflict management.
Choose now to learn how to be reconciled – with God above and with God here in man. Is there someone you know who has something against you?What can you do to find more heart peace now?
---
Managing conflict more effectively is a passion for Alberta Fredricksen, a Conflict Guide and Spiritual Life Coach. You can be empowered in your personal and professional conflicts through personal coaching or group facilitations. Visit Alberta's website at www.HeartPeaceNow.com for more FREE resources and articles. And sign up for the Awakened Inner PeaceMaker Program!