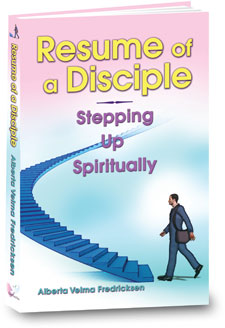 Resume of a Disciple:
Stepping Up Spiritually
by Alberta Fredricksen
If you're someone who wants to discover how to apply your spiritual nature in your everyday life, and to gain that spiritual mastery for yourself even as you encounter all of life's challenges, then Resume of a Disciple is for you! This insightful Guide contains a step-by-step process to integrate Spirit into your routine way of life so that you don't have to give up your "day job" to pursue your Spiritual path.
248 PAGES / $14.95 HeartPeaceNow / ISBN: 978-0980183405
How do you keep on going in a world that seems at times to be spinning out of control? This is the question of the hour. What is it that makes the real difference in creating balance? Could it be your spiritual life?
Experienced Personnel Director, Conflict Management Consultant and Spiritual Life Coach, Alberta Fredricksen, combines processes and lessons learned from her professional career and inner life to create a practical, balanced and innovative lifestyle.
When you read Resume of a Disciple: Stepping Up Spiritually, and follow it like a manual, you will identify the keys for building your own spiritual job description and create your own resume. In a nutshell, you"ll develop your personal, Spiritual plan leading to a life of joy, certainty, and connection to your Divine purpose. This puts you squarely in the driver's seat and allows you to take dominion over your life from the Heart of Spirit.
Imagine who you could be if you had a precise step-by-step manual for your Spiritual life. Let's suppose you had a guide, much like the one you receive in the workplace, ie. the "job description." Then you would know what tasks you were being hired to perform. After reading this book, you will understand what spiritual tasks are the "work" of the disciple. Moreover, you will understand how stepping up Spiritually is as easy as following a job description which you can apply daily, just as you do in your regular employment or livelihood.
Resume of a Disciple, the unique, "accomplishment-oriented" manual for creating an empowered spiritual life within your everyday routine is the "how to" guide you will enjoy working with to:
Write yourself a job description for your Spiritual Life!
Know who you really are so that you can do what you're meant to do while you're here on earth.
Gain a greater understanding of what daily service to life looks like so you can nurture life and balance karma in all that you do.
Experience a new level of awareness so that your consciousness can help to raise the collective and individual consciousness of all on this planet.
Discover practical ways to strengthen your "Spiritual life" so that you can live your "everyday life" more abundantly by blending the two seamlessly.
Empower your own unique Spiritual identity, then watch how it makes a difference in every aspect of your life. Resume of a Disciple will help you get there.
" An empowering book designed to help readers discover the spiritual power that lies within themselves, Resume of a Disciple is an action guide for those who seek to find a spiritual path that can easily merge with their everyday lives." —Edward M Brittingham, author of Operation Puppy
"When Change Becomes Conflict:
When you speak of change, conflict may be right around the corner. Whether your change process generates conflict or not depends on what you think about conflict. And whether you think it's good or bad, just realize that you are creating your own reality. Knowing that change has the potential for generating conflict, most of us can accept that conflict is necessary—even desirable at times….
"Tension and conflict are not synonymous. If you are experiencing tension, it does not mean that you are n conflict or tht conflict will automatically follow. Tension can stimulate change and constructive creativity. When tension gets person, there is conflict.
"When we are interacting with other people how do we keep it from getting personal? Renowned author and psychiatrist M. Scott Peck teaches, 'Whenever there is a relationship between two or more people, an organization of some sort is involved.'"
"Alberta takes her vast human resource experience to the next level and creates a practical spiritual resource for all who aspire to an intimate relationship with the Divine." – Therese Emmanuel Grey, author of The Legend of the Ancient of Days
"What a unique and profound way of teaching and conveying the truth of the path of Christhood! Surely anyone searching for "The Way" will find Resume of a Disciple enlightening and empowering. It is universal in its approach yet very specific in its wisdom and understanding. It should be included in all bibliographies of recommended reading for those searching for a deeper mystical experience in life and a greater walk with the Master." – Rev. Carl E. Showalter, Pastor, Teacher and Counselor
"In Resume of a Disciple, Alberta Fredricksen makes a startling comparison. She uses career language: resumes, job descriptions, and on the job training, to explain our spiritual roles as followers of Christ. This meticulously researched and thought-provoking work will open your eyes and inspire you to a deeper commitment to your spiritual life. Don't be surprised if you find that you've changed while reading this book. It invites deep and rich contemplation." – Lynne Klippel, author of Web Wonder Women
"In Resume of a Disciple, Alberta Fredricksen encourages us to step up higher in our service to God and our fellow man by walking the path the Master walked. The steps to doing so are as simple as assessing our qualifications, preparing a resume, and applying for the job. What a unique and down-to-earth presentation of applying timeless spiritual principles!" – Karleen Ann McSherry, author of Letters from the Unborn
"Life may throw us many curve balls and we have to find a way to make peace with it all. That can be a difficult task. Alberta's loving guidance provides a compass for navigating our lives and shows us how to anchor our trust as a spiritual disciple. Resume of a Disciple will stir a deep knowing in you and lift the veil of forgetfulness so you can weather life's ups and downs." – Sharon Wilson, Founder and Chief Inspiration Officer of Coaching from Spirit; co-author of Coaching with Spirit