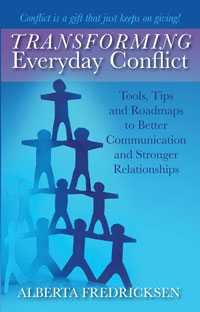 Transforming Everyday Conflict
Tools, Tips, and Roadmaps to Better Communication and Stronger Relationships
by Alberta Fredricksen
Even though your experience of conflict may be stressful and frustrating, Conflict and Life Coach, Alberta Fredricksen, concisely and elegantly combines into one potent and easy-to-read little book the important essentials, understanding and "how to" steps that you need to know in order to transform conflict and create new opportunities in your life.
What if you could transform your fear of conflict into the confidence that you can effectively handle conflict arising in your life or career? Conflict is not a negative experience to be avoided at all costs. Conflict is a normal, natural part of life that can impart important gifts and strengthen relationships. Yet, few of us have been taught how to effectively manage everyday conflict into something new and positive.  Until NOW.
133 PAGES / $12.95
HeartPeace Now Publications / 978-1-934509-75-3
You'll appreciate the depth of understanding, the tips, case studies, and explanatory outlines of how to bring about conflict resolution and transforming change in your life and the lives of others. This little book is big on helping you handle those tense conflict situations that arise, accomplish your goals, and prosper relationships.
Transforming Everyday Conflict, one of those rare books everyone can benefit from, is an extraordinary "must read," basic training self-help manual.
Transforming Everyday Conflict Reveals the essentials you need to know including:
The common cause of conflict
How to find opportunity for creating something new in the midst of conflict
What to say and do in step-by-step guides with simple language
Tips to maintain your equilibrium in stressful situations
How to respond when conflict spurs anger
Simple ways to problem-solve with others in family, business or community
"The most complete and comprehensive book on conflict resolution I've ever read."  Michael Angier, founder of SuccessNet.org, author of The Achievement Code
Table of Contents
Acknowledgments
Introduction
How to Use This Book
Chapter 1: Three Powerful Keys to Understanding Conflict
Chapter 2: The Power of Choice
Chapter 3: Seeking and Offering Forgiveness
Chapter 4: Seven Tips for Managing Your Own History
Chapter 5: Five Mistakes to Avoid during Conflict
Chapter 6: The Art and Science of Giving Directions
Chapter 7: Basic Steps for Problem-Solving
Chapter 8: How to Make Tough Decisions
Chapter 9: How to Deal with Another's Anger
Chapter 10: The Art of Listening
Chapter 11: How to Give Information
Chapter 12: Handling Complaints
Chapter 13: Fist to Five Process for Consensus-Building
Chapter 14: Some Closing Thoughts: Think Courage!
Appendix A: A Simple Action Plan
Appendix B: When and How to Use a Summary Memorandum
About the Author
"As an attorney, I search for…reliable and credible resources which actually provide useful, practical guidance in resolving conflict to use and share with clients…Transforming Everyday Conflict educates and empowers representatives and clients to control and mange the processing of conflicts…provides a reliable, real-world framework…to reach better solutions." –Robert Brown, Attorney representing employment/labor/healthcare clients
"This book illustrates a higher way so that all are free to communicate safely and all can find personal worth. This is a foundation of a free society and these tools can be applied in all aspects of life." –Rev. Carl Showalter, pastor, teacher, counselor and teacher of spiritual dynamics
"Transforming Everyday Conflict …identifies change as a constant factor in our lives. Understanding the alchemy of transforming that change in positive ways helps to produce vital and balanced good health…inspires and empowers us to seek understanding in a new way…This is a big step forward in reaping maximum health benefits in all cycles of our life. –Marcia Marie Scully, Holistic Health Practitioner